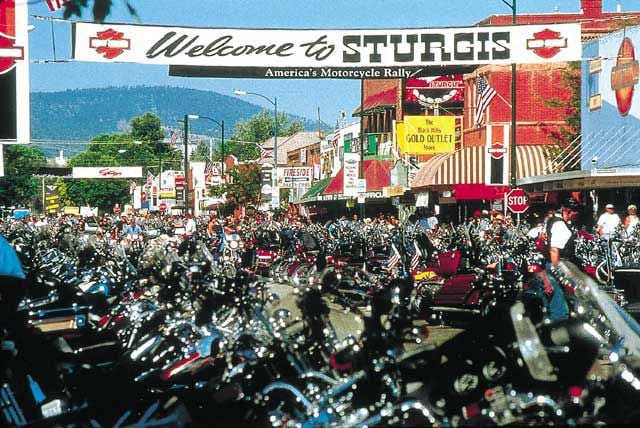 The largest motorcycle rally in the States, Sturgis is packed with motorcyclists of all flavors. (Motorcycle Cruiser/)
I'm not a biker. I don't have any tattoos. I've been to Americade but not Laconia. I haven't been in a fistfight since sixth grade and I always wear a helmet while riding—even when I don't have to. I never drink alcohol when I'm riding, my motorcycle T-shirt collection is not exclusively black, I don't ride a V-twin, and I don't believe loud pipes save lives.
But I am one helluva motorcyclist. I own four bikes, ride more than 20,000 miles annually and commute to work via motorcycle every day. I'm also an American Motorcyclist Association field rep and lead an all-brands club with more than 125 members.
When one of my Harley-Davidson riding buddies invited me to accompany him to Sturgis in 2001, I jumped at the opportunity. While I suspected I might not fit in with the biker crowd, I couldn't resist the opportunity to be a part of such a famous and historic rally. So this Odd Couple—Bill, on his Harley-Davidson Dyna Low Rider, and me, on my bright red 1996 BMW R1100GS—set out from Virginia for Sturgis.
The Good Of Sturgis
Sturgis Motorcycle Rally is certainly about the motorcyclists and the community. At each gas stop along the way to Sturgis, we encountered riders heading to the rally. Once west of Pennsylvania, the numbers were legion. It was like a holy pilgrimage, and it felt good to be part of something so big. An estimated 600,000 people attended the rally at Sturgis this year! This common bond made all the people we met, both on the roads to and in Sturgis, friendly and polite. In fact, politeness best characterizes the attitudes and comportment of the people we met.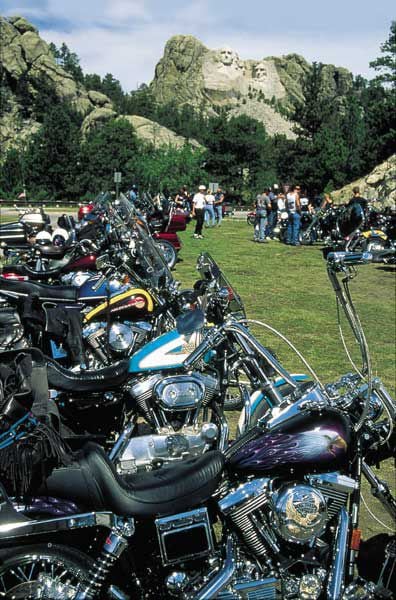 A must-take trip when you are at Sturgis is to go visit Mount Rushmore. (Motorcycle Cruiser/)
If you're looking for spectacular roads and scenery, the Black Hills are hard to beat. Whether it's the lunar-esque landscapes of the Badlands, Iron Mountain, and Needles Highways, Mount Rushmore, the Crazy Horse memorial, Wall Drug, Deadwood, the ghost towns or any of the other numerous attractions of the area, you can't go wrong.
I met lots of nice folks from all over the country at Sturgis and exchanged addresses and phone numbers with many of them. It's great to have a network of motorcycling friends throughout the country. Bill and I shared a house with two couples. One, a writer for a chopper magazine, shared some interesting insights (e.g., the difference between accessorizing and customizing a bike) I had not considered before our meeting. The two of us, despite residing at different ends of the motorcycle spectrum, became friends and made plans to tour together next year. The friends I made at Sturgis are the best souvenirs I brought back.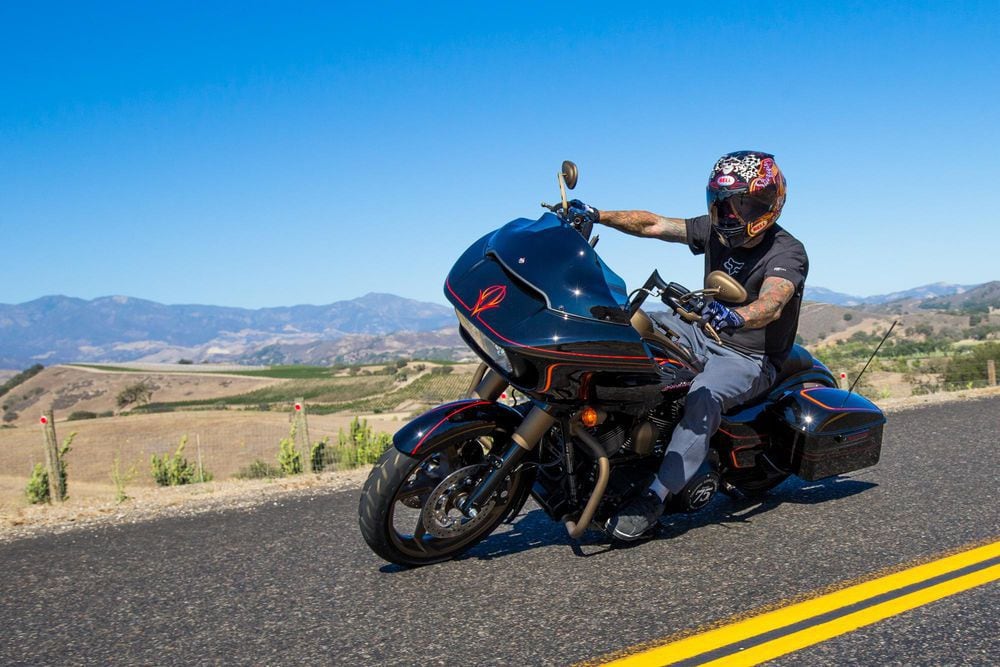 Another perk of attending Sturgis is riding with celebrities like Freestyle Motorcross Superstar Carey Hart. (Motorcycle Cruiser/)
It's always fun to ride a different bike and where better than a rally to sample new models? I even had the chance to ride a bike produced by the Ultra Motorcycle Company—a massive 110-plus cubic-inch hardtail with a 230mm rear tire is not my everyday ride, and not one I'll soon forget!
One of the more gratifying observations about Sturgis was a large number of women riders. Of course, many females arrived riding pillion, but more and more women are making the trek to Sturgis on their own bikes. This broadening of the motorcycle community should be encouraged. It is one of the things that keeps the sport both interesting and vibrant.
The Bad Of Sturgis
The traffic gets hellish. According to the South Dakota State Police, there were 20 bikes for every car on the roads in and around Sturgis. While these numbers lessened my concerns about being done in by some Volvo-driving Yuppie making lunch arrangements on his cell phone, they did nothing to alleviate the hellish traffic. The traffic jams were horrible and it was difficult to enjoy the area's great roads while creeping along at 15 to 20 mph with 5000 of your closest riding buddies.
As I noted above, I don't mix booze and gas—although, I have consumed the former and produced a lot of the latter in my day. The mixture of imbibing bikers in great numbers on strange and crowded roads was a prescription for disaster. I must admit to being concerned for my own safety on more than one occasion, especially at night. But then again, I'm a wuss.
The macho motorcycle apparel was abundant. My personal favorite was a black T-shirt that screamed out "F—k you, you f—kin' f—k!" Succinct, but graphic. Since one of the only places you could get away with wearing this shirt is at Sturgis, and it's inappropriate attire when visiting the in-laws, I neglected to pick one up.
The typical biker body stereotype was lived out. I saw a few too many acres of dimply flesh and there was no shortage of bare-chested men with pendulous hairy bellies at Sturgis. Sometimes, bad is bad.
Many of the roads in eastern South Dakota go through cornfields. The 65-mph speed limit and the fact that they are straight as an arrow encourages, shall we say expeditious travel. Birds abound on these roads, eating the insects that lie on them. Usually, the birds will scatter with the rumble of an approaching motorcycle. One didn't however. In the aftermath of the collision, my bike, legs, jacket, and helmet were covered with blood and feathers. Happily, I was riding Bill's bike at the time.
The Ugly About Sturgis
In light of the motorcycle congestion in the area, it's not surprising that some motorists became impatient. What was ugly, however, was the trucker who purposely hit two bikers from behind—causing significant damage to their bikes—because he was angry at the traffic jam on the interstate. What was amazing was the riders—who did a great job of imitating a bunch of thugs—didn't pull the trucker out of his cab and beat him to a pulp.
A friend once defined a biker rally as 100,000 rugged individualists all dressed alike. I couldn't believe how many folks in Sturgis were wearing black T-shirts. Almost all but those hairy, bare-chested, pendulous belly types. That must have been really comfortable in the 100-degree heat.
Imagine the ugliest rat bike, or in this case, trike you can. Then add a helicopter rotor to it and ride down Main Street with Woolly Bully blaring over the trike's loudspeaker. Sometimes, ugly is funny.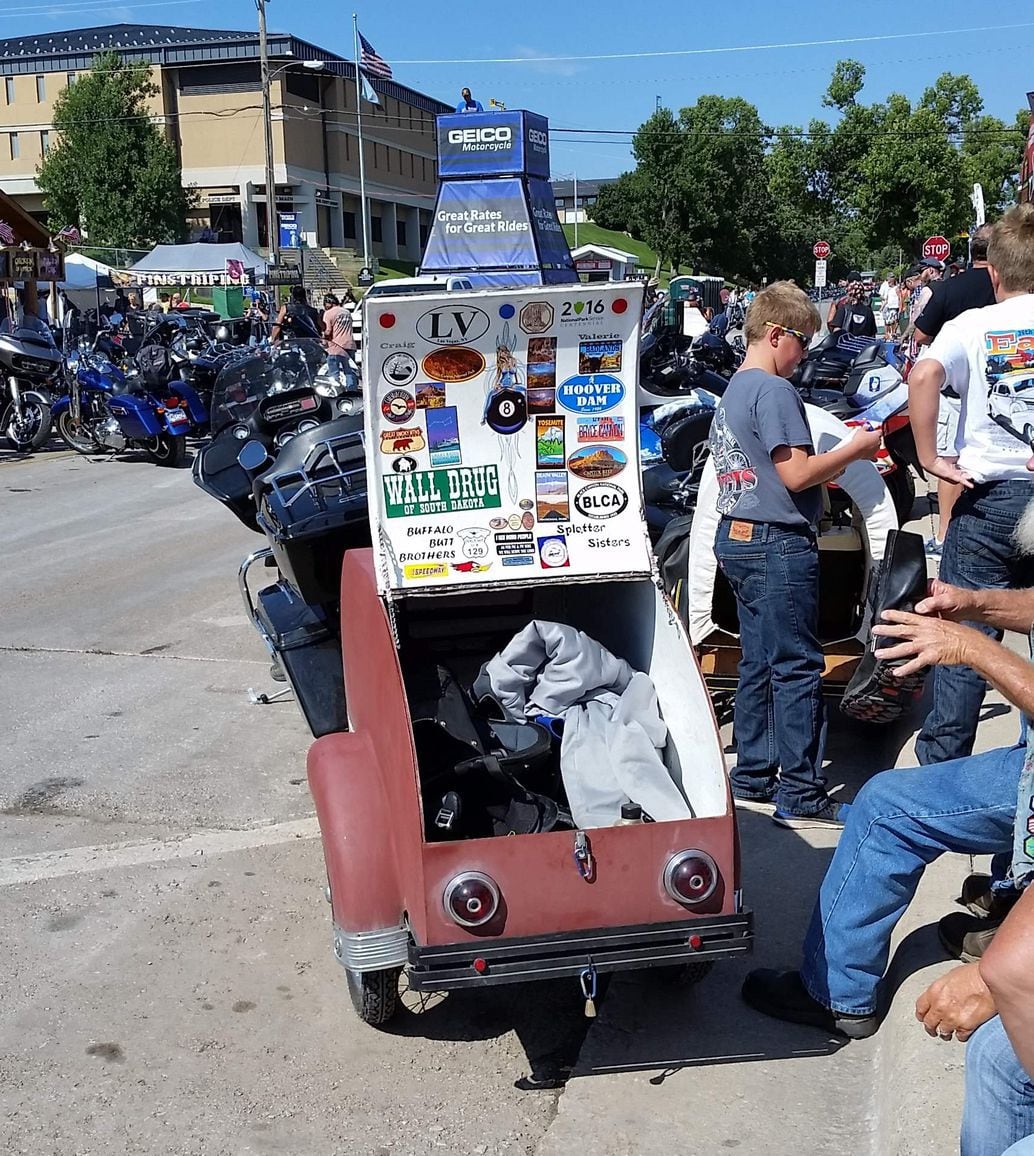 Don't forget to pack a fuel bottle if you don't have a fuel gauge because gas stations outsi
de are Sturgis are sparse. (Motorcycle Cruiser/)
You can and might run out of gas. It's possible to travel 50 miles on major state highways in South Dakota without seeing a gas station. And when you pull into most stations, you'll find only two octane levels: 87 and 89. When you combine high-speed limits, loaded bikes, and westward travel into 20 mph headwinds, the result is obvious. Bill ran out of gas and I had less than 10 miles remaining in my tank when I limped into a station in Philip. What was ugly was the failure of any of the hundreds of riders who passed Bill on the road to stop to see if he needed assistance.
I'm not talking about your everyday, garden-variety moron. I'm talking about the types who travel cross-country using a 1991 atlas and find themselves lost approximately 50 percent of the time. Next year, Bill and I are springing for a new one.
A Final Note About The Sturgis Rally
So, when all was said and done, we rode some good roads, saw some breathtaking sights, met lots of nice people, and encountered outstanding bikes and had some laughs. While the traffic was unbearable at times, it hardly dissuaded me from planning for a repeat trek next year. Maybe I'll see you there. I'll be the guy in the black T-shirt.