Jeans With A Twist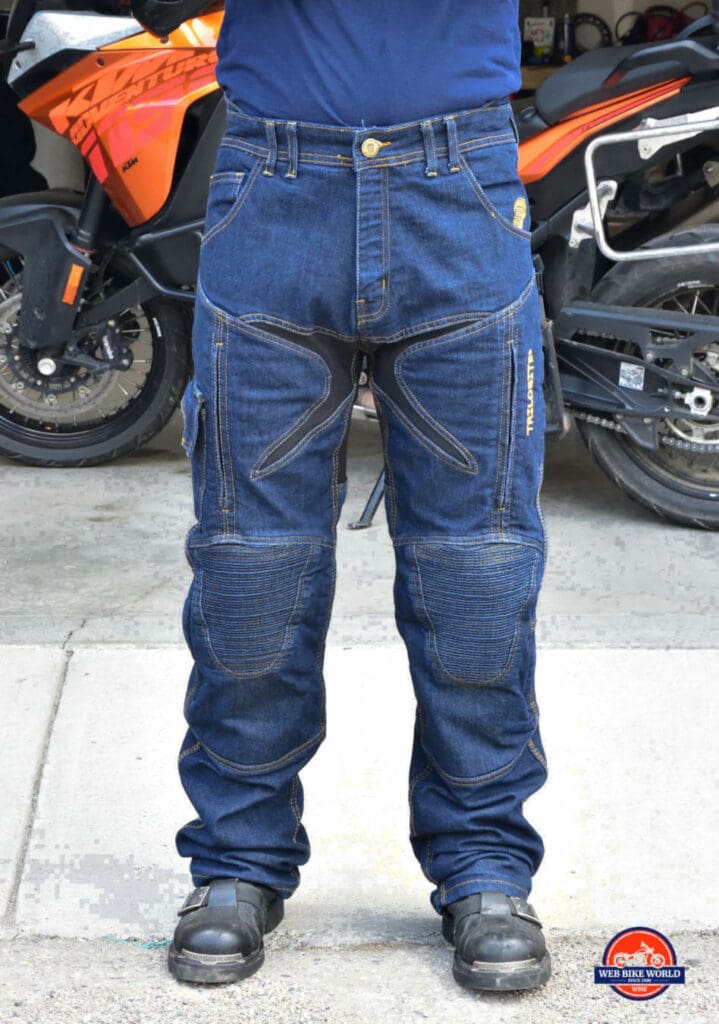 What the…??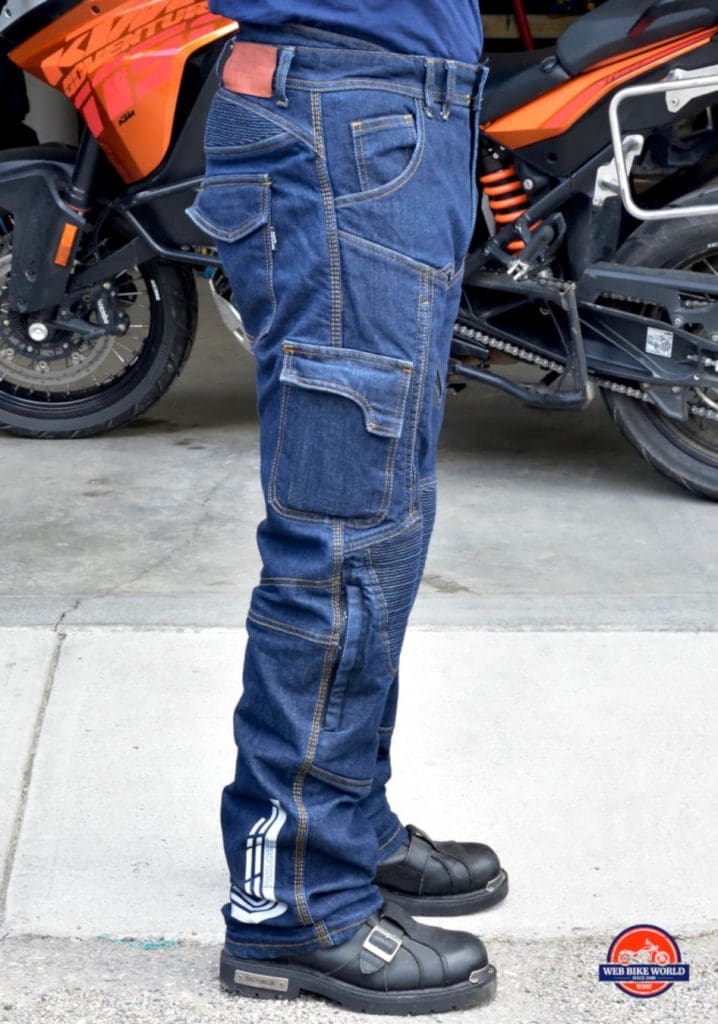 When I first saw the photos of the Trilobite Probut X-Factor motorcycling jeans in the MotoNation catalog I was beyond intrigued.
I've noticed the rising popularity of motorcycle jeans and wondered whether they're all some people make them out to be. I jumped at the chance to test these Trilobite Probut X-Factor ones mainly because of the waterproof and 4 season claims.
That's the kind of bragging that needs to be challenged and then either confirmed or exposed as fraudulent.
First Impressions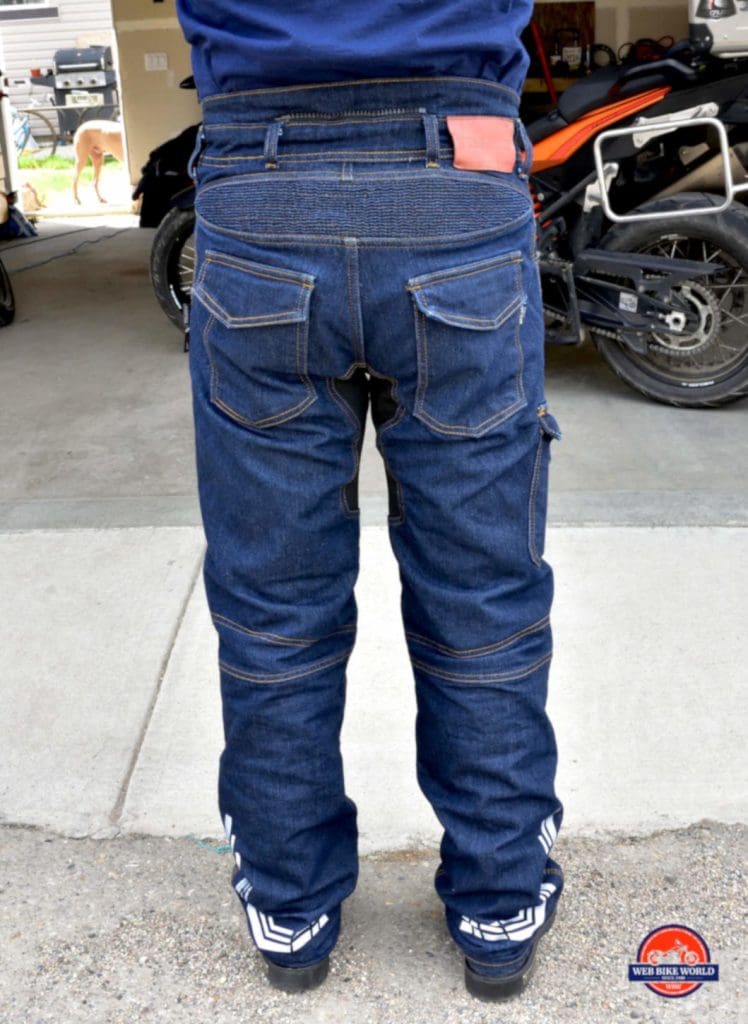 Fitment… How YOU Doin'?
Picking them up right away I noted how heavy they feel just to hold, and when worn fresh out of the box they're very stiff and… how do I put this without sounding crude? Overly friendly with your most private areas. Yes, I said it. They ride up your butt too much, but only at first, thankfully!
I'm a size 34 waist for non-motorcycle jeans and these 34 waist Trilobite jeans fit the same way in that regard. They're a little longer as you can see in the pictures, but I'm just a little over Hobbit height and so this is a normal problem I've come to accept.
I apologize for not growing enough to be a better clothing model. I'm hoping that the "Probut" moniker at least made my backside look professional in these jeans. All of you will look way better in them than I do. Have a look at these stunning models from the Trilobite website.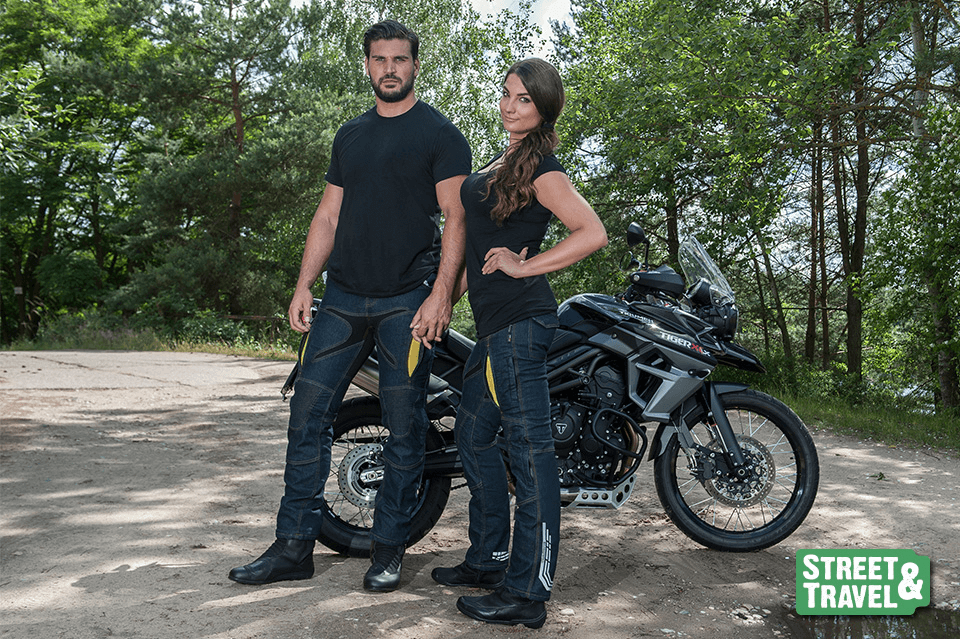 The jeans come in several men's and women's, regular and long sizes.
Heavy Duty
After wearing them for a few hours of riding and around the house they broke in nicely and the only thing telling me I was wearing motorcycle jeans was the weight. They feel like gravity is working twice as hard on pulling them down your legs than typical jeans.
This problem you only notice if you wear them around the house all day as I did. Once on the bike, it's not noticeable at all and they're more comfortable than most other riding pants I've tried because they're soft and cushioned thanks to the Kevlar and thicker denim.
No Swishing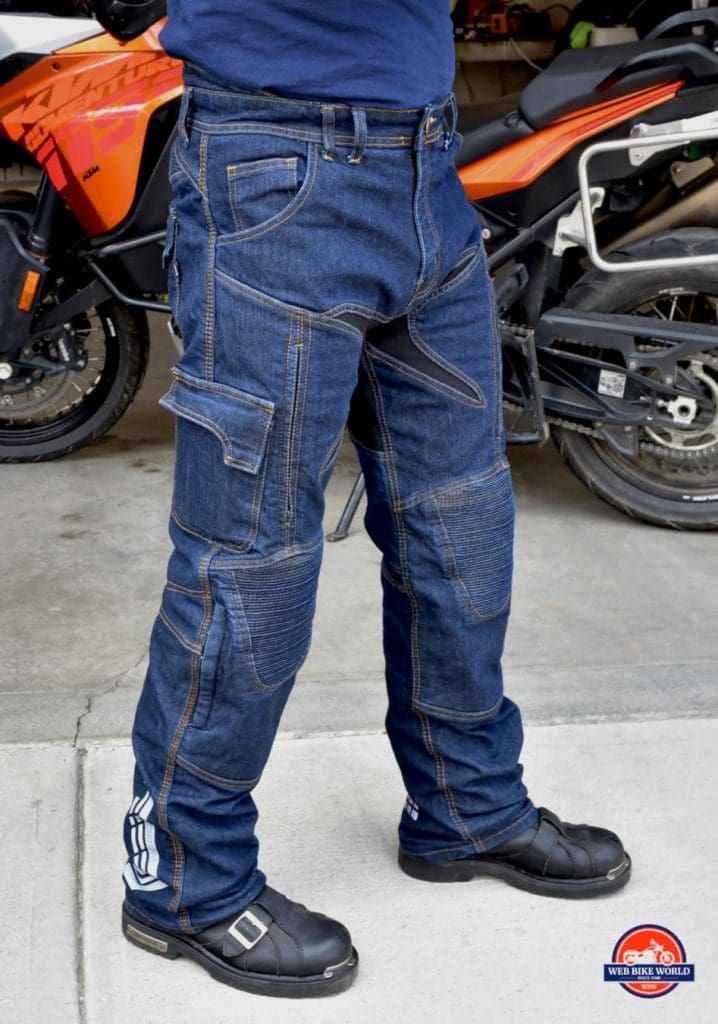 One of the great benefits of riding jeans is the lack of "swishing" sounds while you walk around and the thigh material comes rubbing together with each stride.
With regular Nylon textile riding pants that noise really gets on my nerves after a while. I start to flashback to horrible days of my youth where I had to wear snow pants to school in winter and how uncomfortable they were.
Venting Ability
My main concern with riding jeans coming into this was whether they can keep the wearer cool in summer weather. I typically wear jeans while riding and know they don't breathe well and don't adequately protect in a slide either.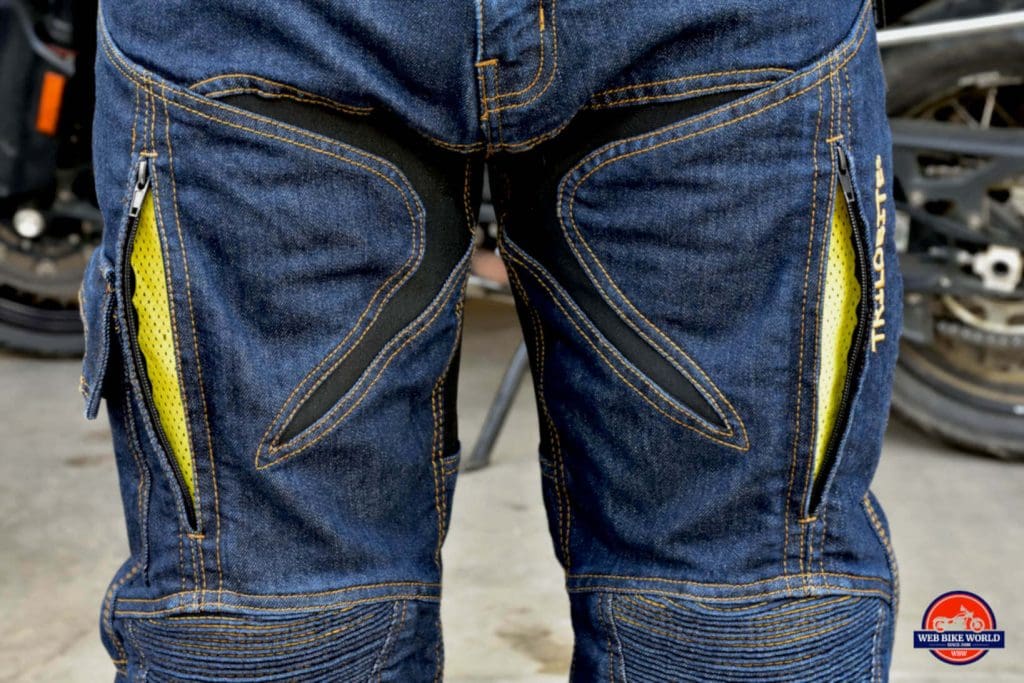 The vaguely star-shaped, vented material found in the crotch area or "crotch starfish" as I call it, immediately jumped out at me when I first laid eyes on these pants. This thin, breathable and stretchy fabric is a fantastic solution to a very sweaty and uncomfortable problem all people who like to wear jeans in the summer know well.
Don't kid yourself, they don't breathe as well as Trilobite seems to imply with the waterproof liner in them. Remove the liner and get moving at highway speed and VOILA! There are awesome levels of airflow over your most private of areas. I was actually a little on the cool side once temps dropped down into the 65-degree range and thought about putting the liner back in.
Trilobite has incorporated what they call "Coolmax Fibre System" which wicks moisture and heat out of the inner layer. It works, but only to a point as I definitely had to remove the waterproof liner while wearing them around the house after a couple of hours to avoid uncomfortable levels of sweating. Moving at any level of speed down the road cures this problem, and I doubt Trilobite expected people to lounge around the house in their riding jeans, to be fair…
The jeans come with a small bag to store the liner in for keeping it safe and compact, which is a nice touch.
Pleated Areas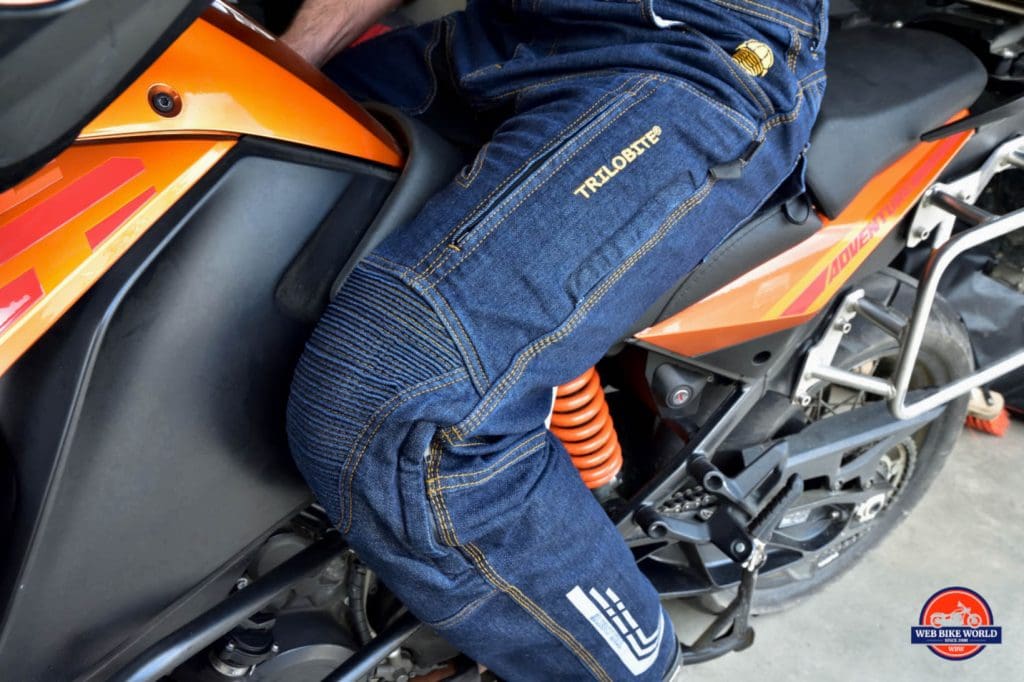 You'll notice in the photos the obvious pleats located on the lower back and on the knees. These are pretty effective at allowing stretch when bent over in the riding position without getting a permanent stretch in the material leading to bulging and wear. The area on the back does still bulge weirdly when you bend forward and you'll want to have a coat cover it or risk having your pants fill up with water when it rains thanks to the easy access caused by the bulging.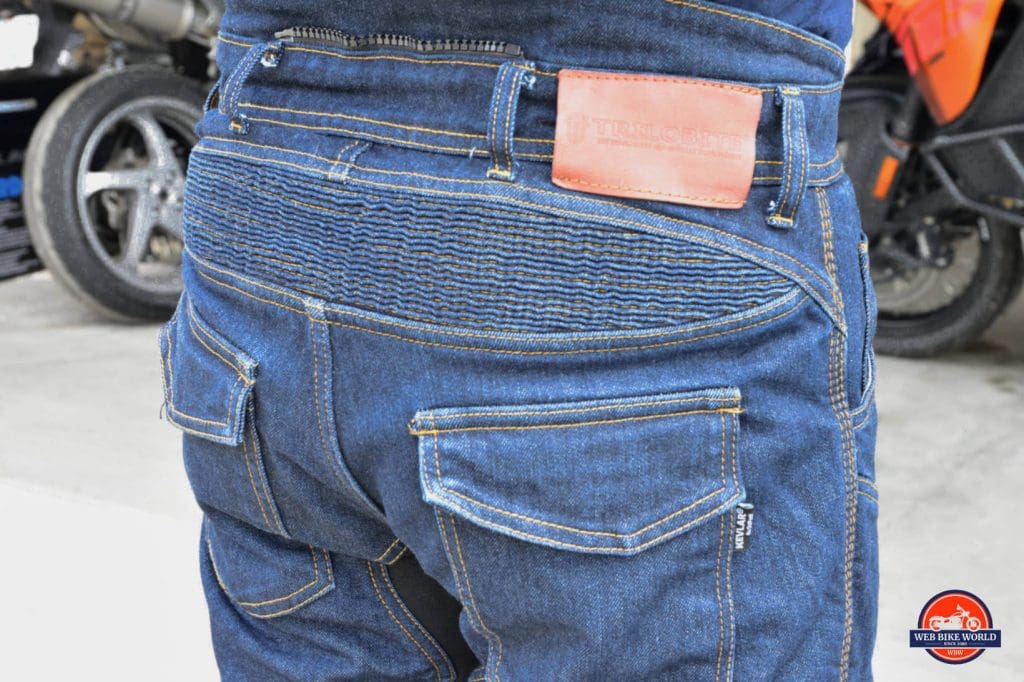 I'd be curious to see a pair of these jeans after a few years and whether they would have faded patches on them after a few hundred washes.
Useless Back Pockets
These pleats, unfortunately, forced the manufacturer to lower the pockets on the back so low that they ride right on the curve of your butt cheeks, rendering them useless for carrying anything thicker than a small piece of cardboard.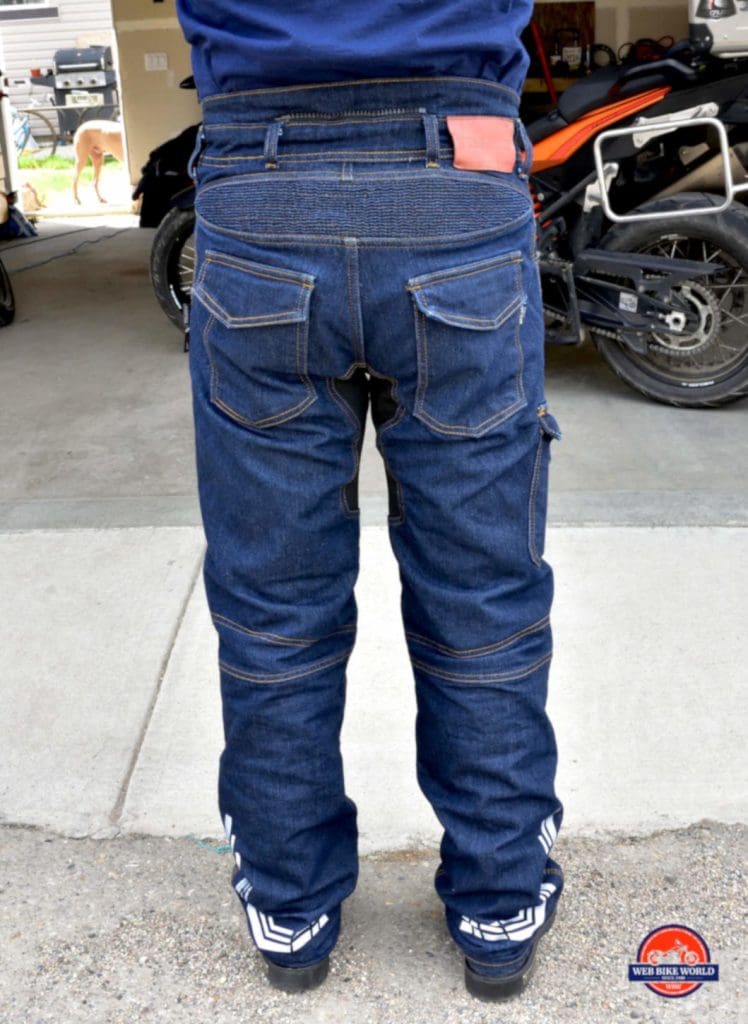 I usually carry my "George Costanza-esque" wallet in my right rear pocket, but that's impossible with these jeans and I had to move it to my jacket pocket instead. Annoying, but not a deal breaker.
Level Of Protection
These are not your average pair of Levis.
They're constructed of Cordura Denim which I'm told is four times more abrasion resistant than run of the mill denim of the same thickness. This combined with the Kevlar reinforced knees, hips and backside area results in a pair of pants that bring a lot of peace of mind if ever you find yourself sliding down the road at 60 mph without your motorcycle under you.
I opted not to test the abrasion resistance. I'll take the manufacturer's word for it on this one.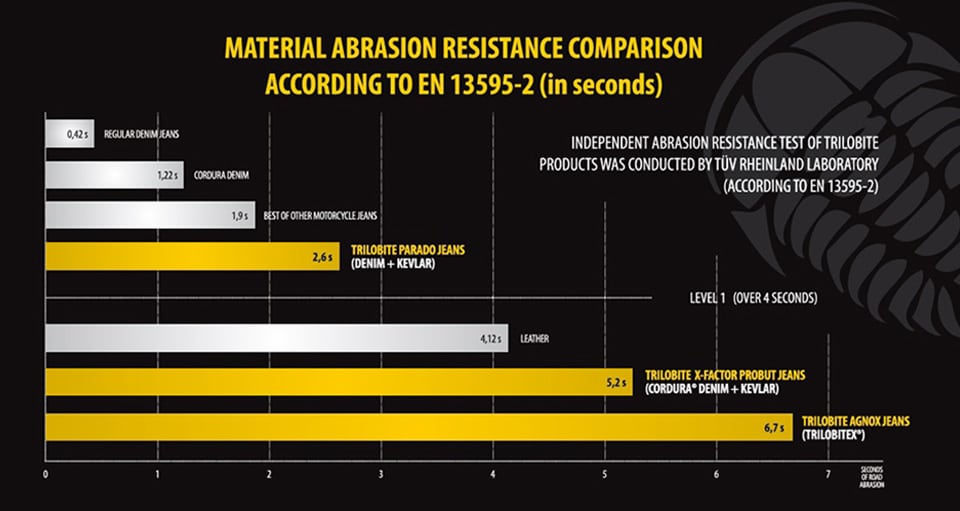 Armor Pockets
There are pockets in each knee and hip area that you can buy armor of your choosing for or use the CE Level B pads that come with the jeans.
I didn't receive the Trilobite Armor with my test jeans initially.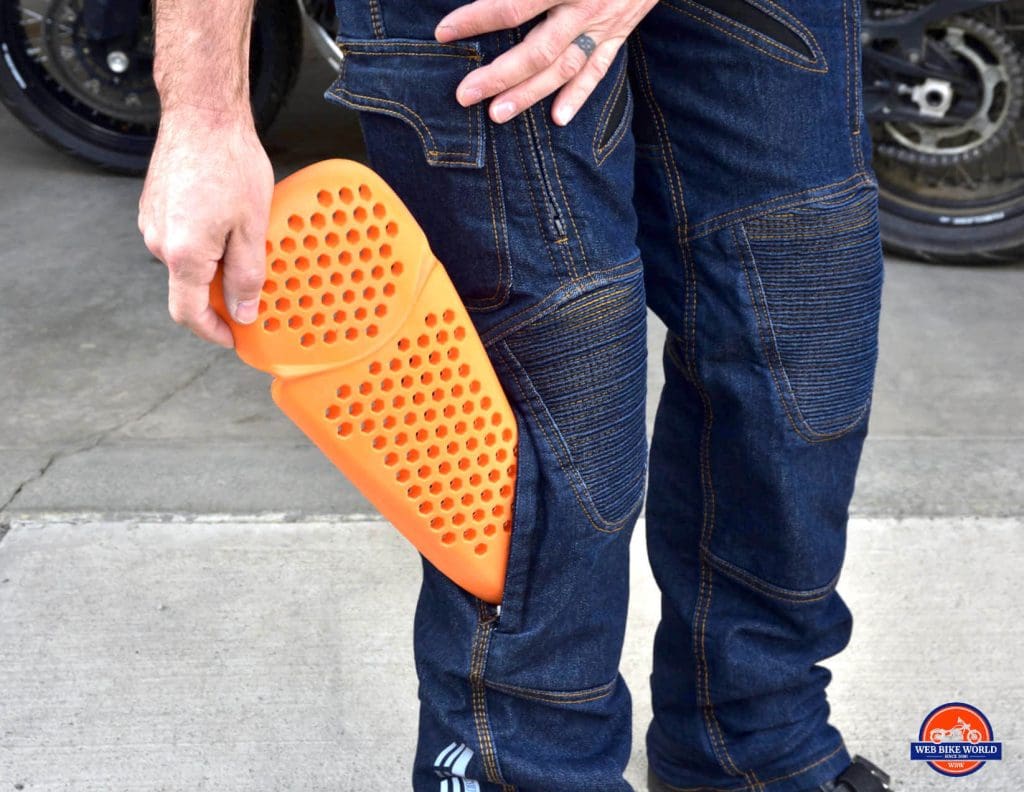 I happened to have some Rukka D30 CE Level 2 pads on hand and decided to see whether I could fit them in. They're very thick and long armor, designed for dirt biking pants, but surprisingly I managed to get them in the jeans successfully as you can see in the photos.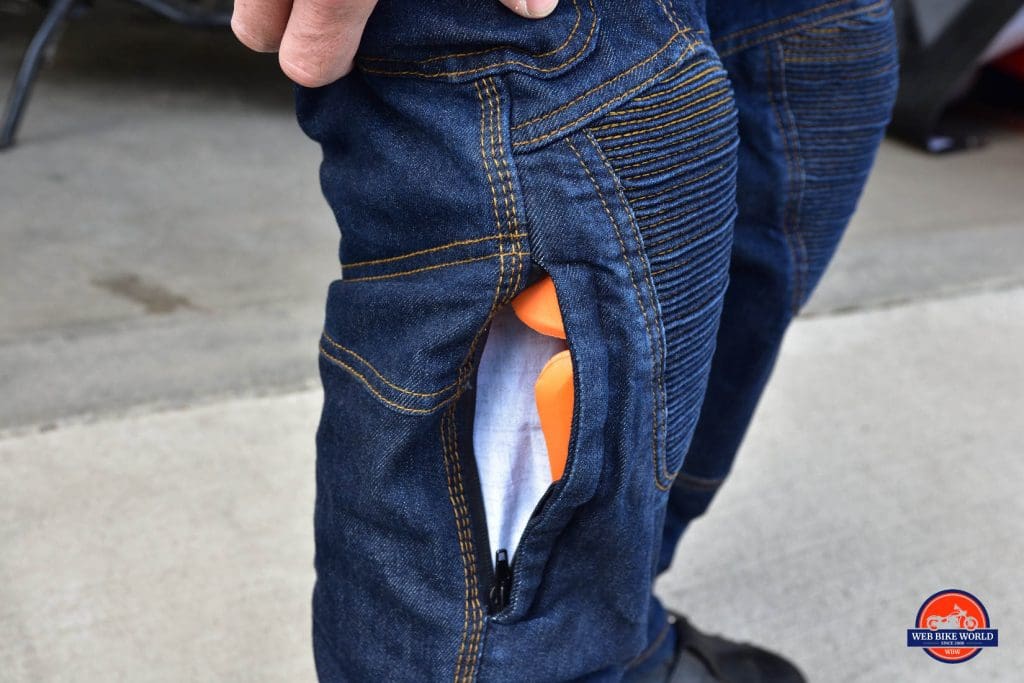 UPDATE On Trilobite Armor
I contacted MotoNation to inquire about the missing armor. They confirmed the armor should have been included and put sent some to me right away.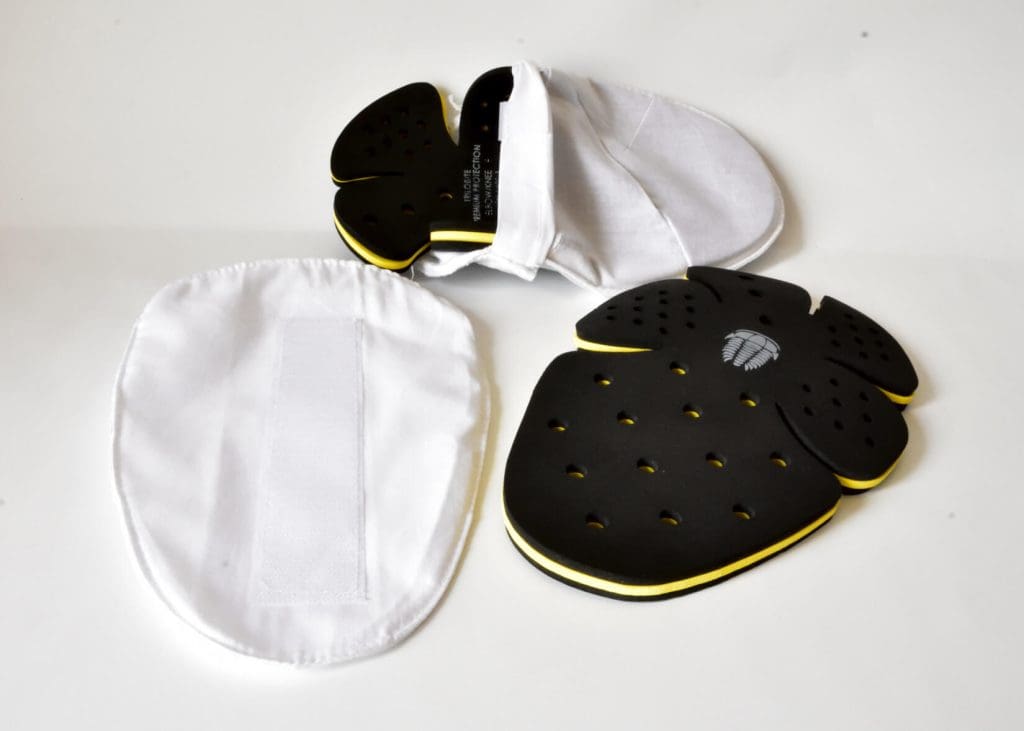 I received them about a week later. They're unusual looking but also stand out as decent protection of CE Level B quality. The pads are constructed of a triple layer of foam with venting holes to allow for breathability.
The knee pads come encased in a thin cotton fabric sheath with a strip of Velcro down the back to hold the knee pads in position when installed in the jeans' pockets.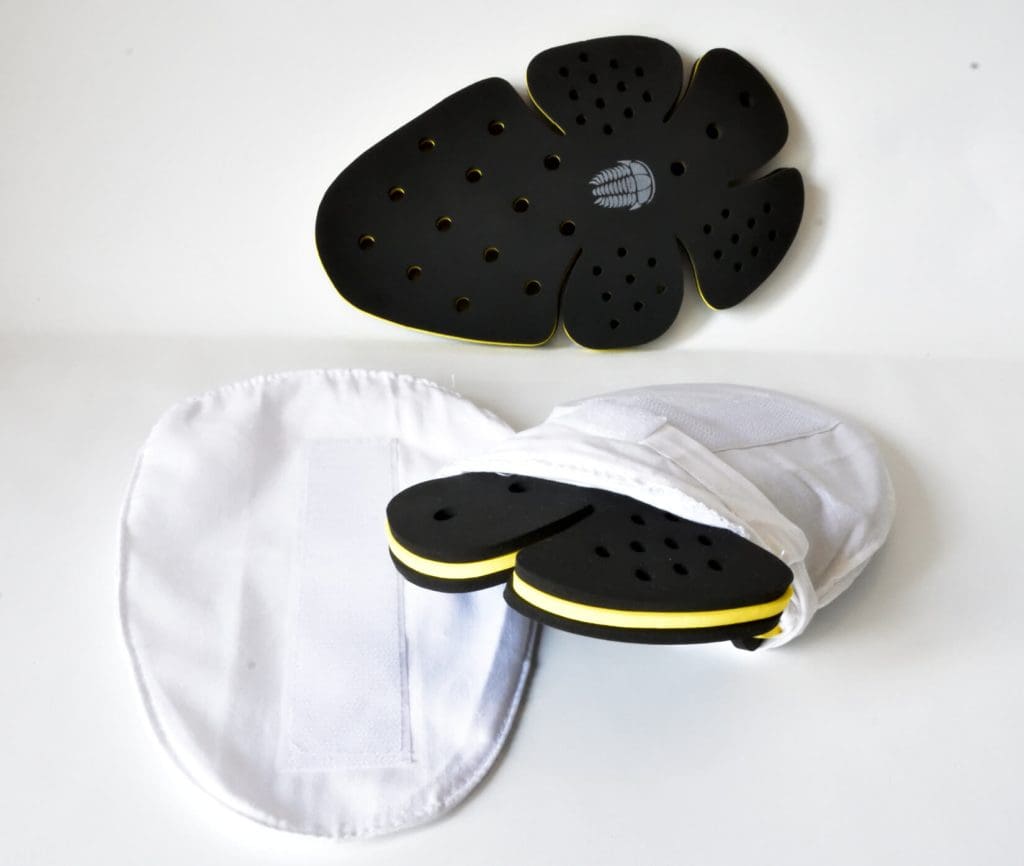 I like the added touch of the Trilobite logo branded on the Armor. It doesn't affect the performance of course, but it's a nice touch all the same on the hip armor pictured below.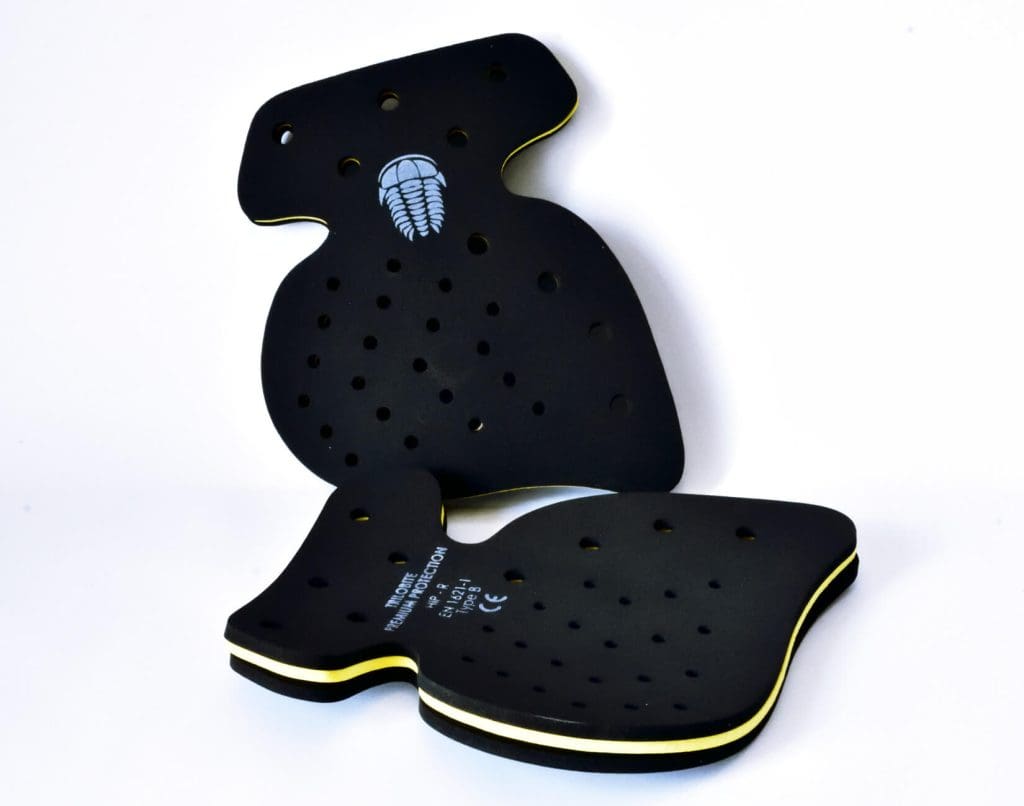 They fit in the jeans much better than the Rukka ones for obvious reasons.
Cell Phone Pocket?
Speaking of pockets, there's a great one on the right thigh that fits an iPhone X perfectly. The velcro strap holds it in there firmly too.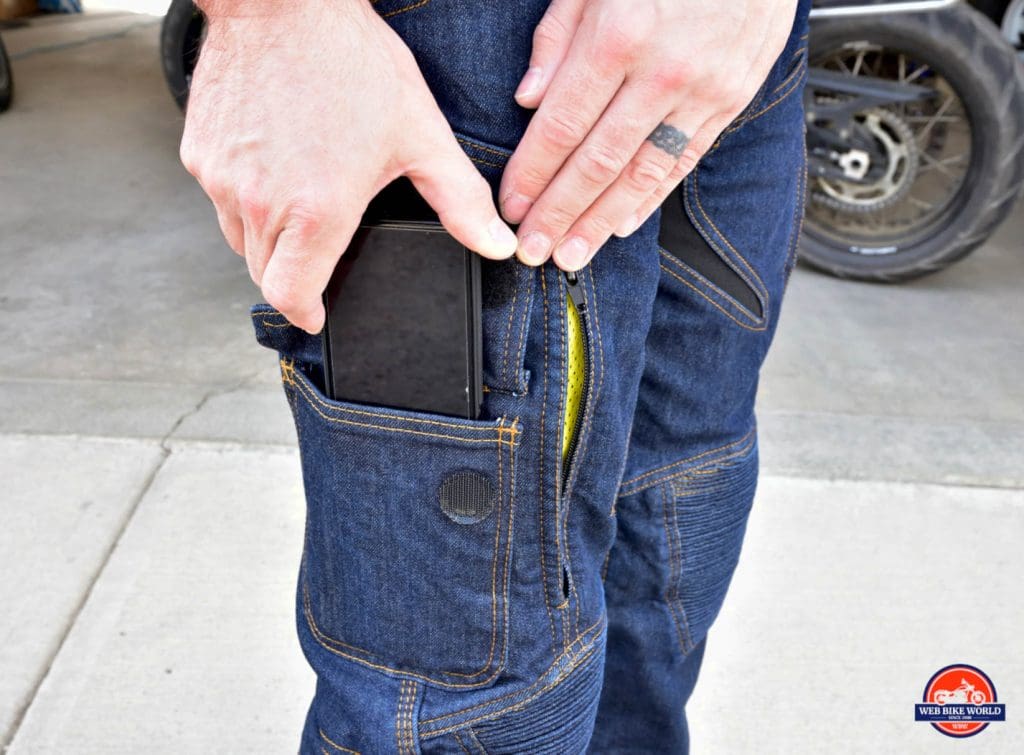 My only gripe about this pocket is that it isn't waterproof. In fact, none of the pockets on these jeans are waterproof in any way.
Wet Weather Riding
In my quest for truth, I will go to great lengths to give you the straight goods.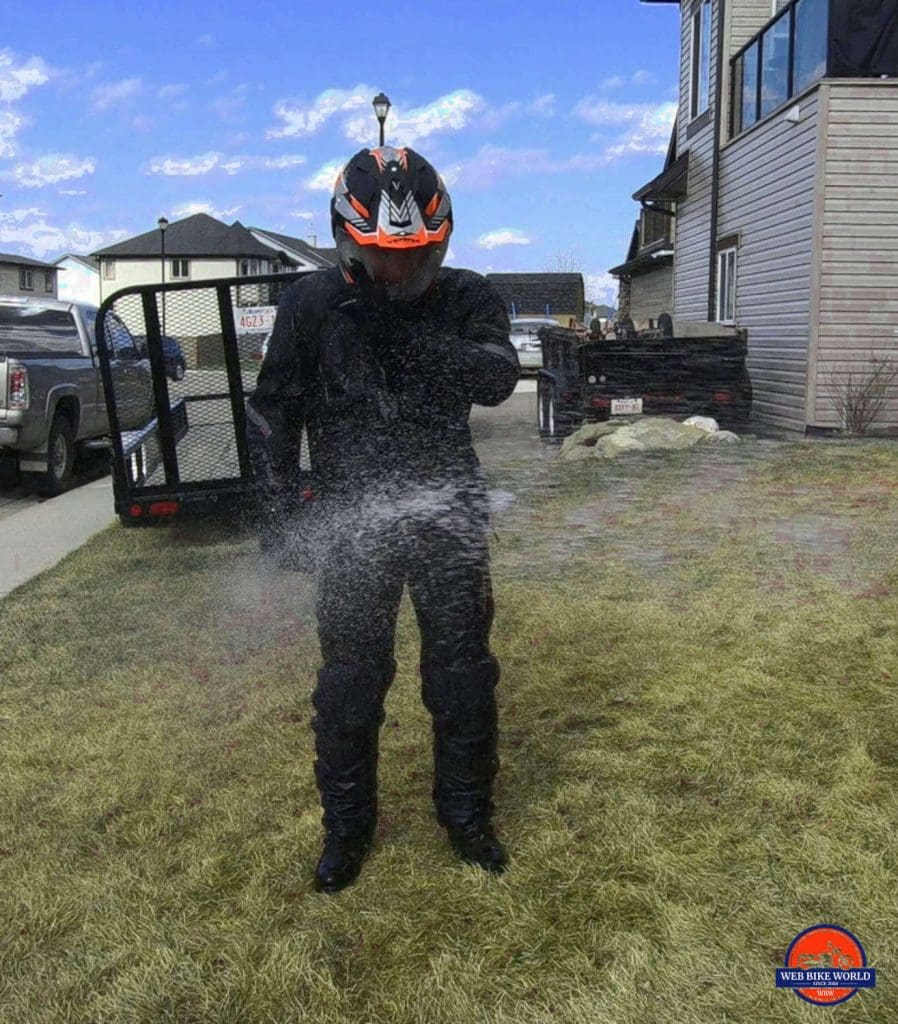 In the spirit of what we do here at WebBikeWorld, I decided to test how waterproof these jeans are by getting doused with the garden hose for 5 minutes. My wife was just a little too eager to help with this part, to be honest.
The jeans didn't miss a beat and came through the test with flying colors. Not only was I completely dry underneath the waterproof liner, but I was still warm despite the very cold water hitting me.
Wet Denim
The denim definitely held water for a long time after. Having said that, if you're flying along at highway speed that water would leave the denim pretty efficiently based on the testing I did. That is a feature of these jeans the manufacturer pointedly brags about. I have to give them full credit on the waterproofing. It's as good as they say it is. I fully expected to get wet, but didn't. It doesn't dry off as fast as GoreTex does, but it's good!
Trilobite Crash Program
Trilobite wants to hear from you if you crash wearing their jeans so they can analyze the fallout and better improve their product. They may even send you a replacement pair for your cooperation.
See this link for contact details
After The Washing Machine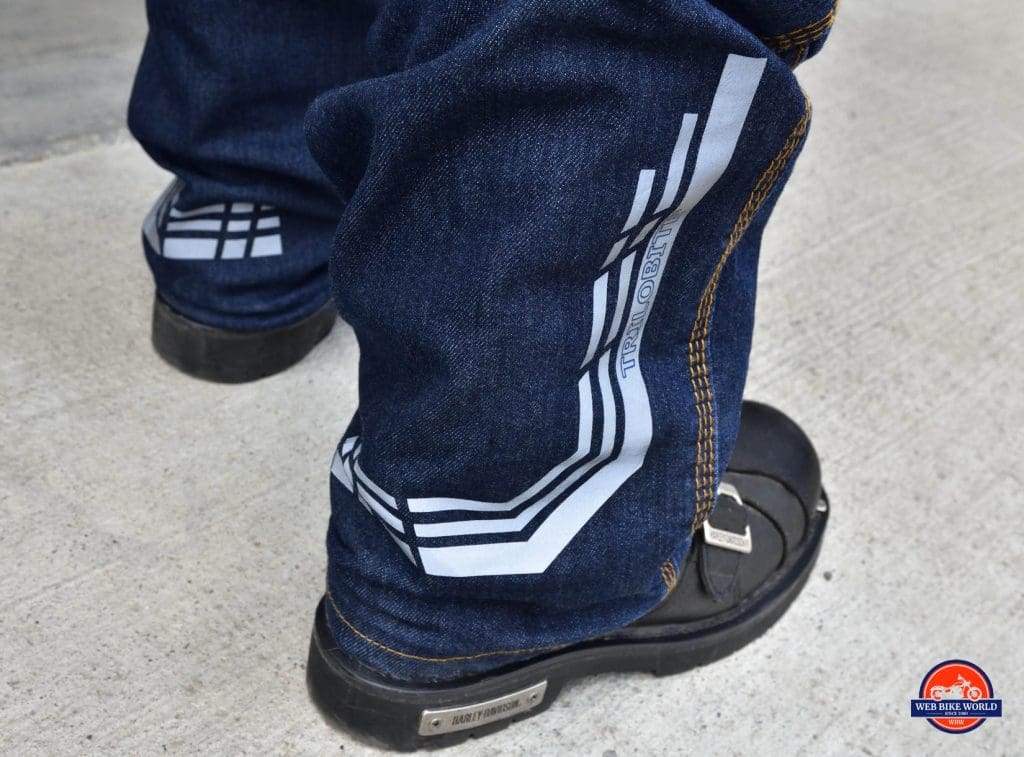 I washed the jeans as directed in cold water and then hung them to dry. They cleaned up nicely and actually fit me a little better after the fact too.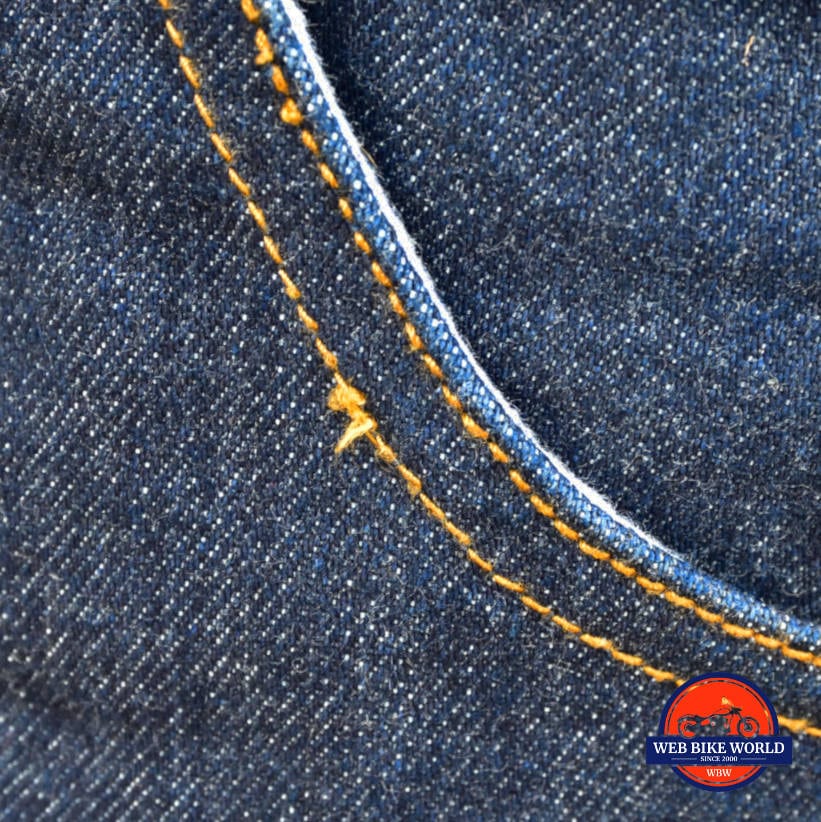 I did notice some of the stitching around the left front pocket letting go, and the reflective material at the bottom of the left leg has cracked and started peeling off. That's very disappointing to see since I really like these jeans and wanted them to last.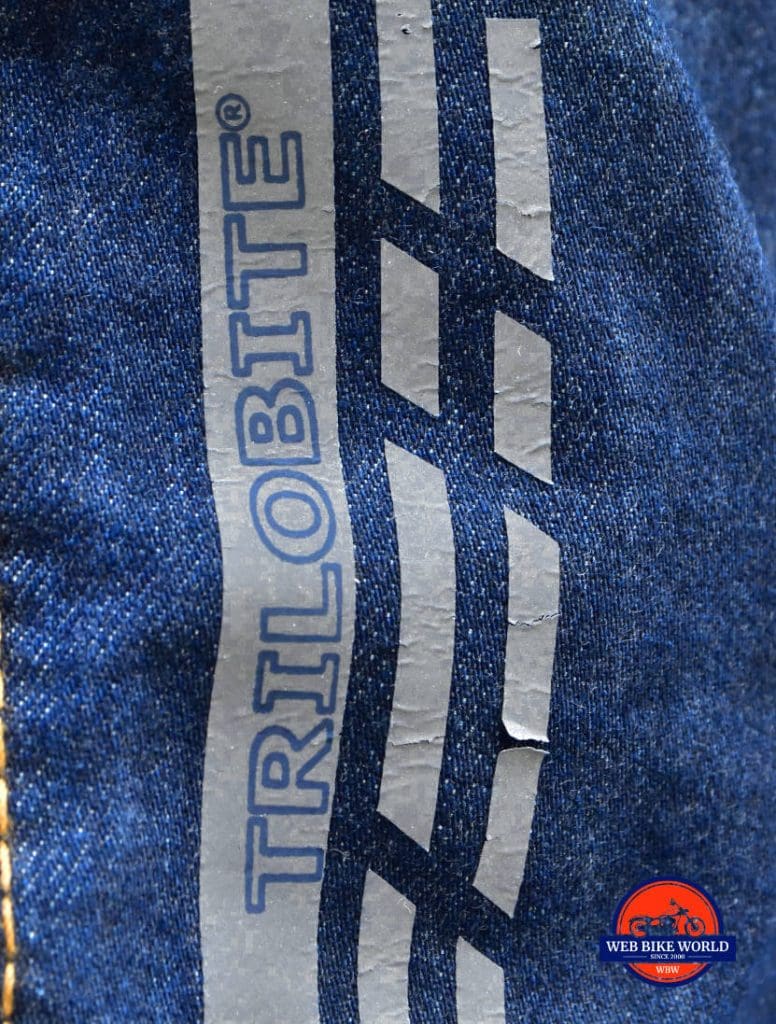 I sent an email to MotoNation asking if this defect would be covered under warranty from Trilobite. They confirmed it would be covered through Trilobite warranty.
Final Verdict?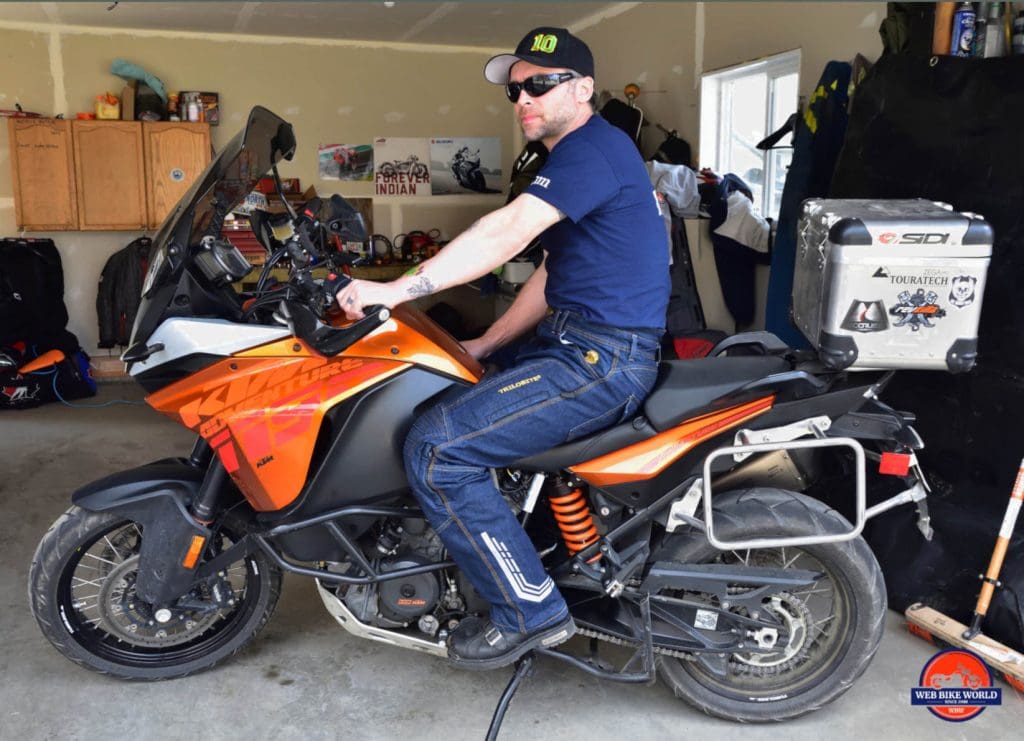 I really like these Trilobite Probut X-Factor jeans, a lot!
Despite the bizarre name and odd, yet charming brand logo consisting of an extinct marine arachnomorph arthropod this product is appealing and fairly solid.
They work surprisingly well in the cold and wet while being decent in the hot too. They protect a rider from slides and impacts while looking hip and stylish after the dust settles. That's like getting bonus points! Form and function all in one. It's a winner without a doubt.
The only thing I don't care for about the design (other than the useless rear pockets) is that the waterproof liner is on the inside and would require privacy to strip down to your skivvies for installation if you were caught in the rain without warning.
The price seems steep if you usually just buy your jeans from Costco the way I do, but these aren't "just jeans". If you haven't understood that about the Trilobite Probut X Factor, you haven't been reading carefully and should go back for a second round.
Pros
Stylish, designer-looking jeans don't look like motorcycle gear
Large and useful front pockets and secret pocket
Removable waterproof liner: easy to remove/install
Windproof and quite warm in cold weather
Fit like regular jeans after break-in
Pockets on knee area for optional Armor
Kevlar lined knee, hip and backside areas
Crotch and thigh vents provide very good airflow
Reflective material on each ankle area
Zipper on back of waist can attach to a jacket
Cons
Rear pockets are situated too low to be useful
Waterproof liner doesn't breathe well in high heat
Cordura Denim takes time to dry after getting wet
Heavy
No armor included
Some stitching and reflective striping failing after one wash
Trilobyte Probut X-Factor Cordura Denim Jeans Image Gallery
The post Trilobite Probut X-Factor Cordura Denim Men's Jeans Hands On Review appeared first on Web Bike World.