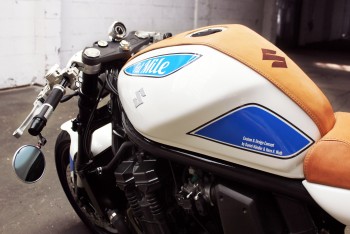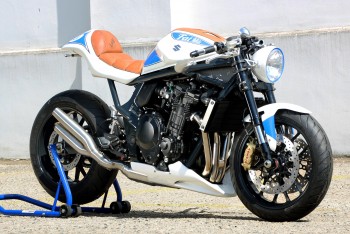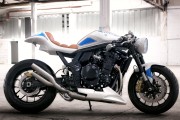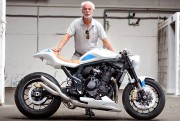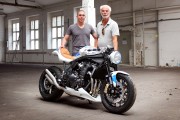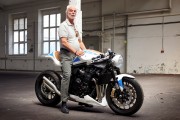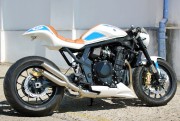 The FatMile is a Suzuki Bandit-based naked streetfighter that's been designed by one of the co-creators of the original, early-1980s Suzuki Katana. Sure, it has a weird name, but the FatMile looks rather cool we think
Yes, it has a weird name (FatMile? Really…?) and it's almost a year old now, but we still couldn't resist doing a post on this machine. Based on the Suzuki Bandit 1250, the FatMile has been co-designed by Hans Muth (one of the three men responsible for the legendary Katana of the early-1980s) and Daniel Händler, both based in Germany. In fact, the Suzuki FatMile was built for the Glemseck 101 festival, one of the biggest café racer gatherings in Germany. Later, it was also shown at the EICMA, Intermot and other motorcycle shows.
"We took a certain risk with this decision. When you hire an established design agency or world-famous custom builder, hardly anyone will come out with criticism. But we consciously took this different approach and chose a solution in the Japanese tradition [of pairing a more experienced person with a younger guy]. Looking at the FatMile now, I am convinced we did the right thing," says Gerald Steinmann of Suzuki Europe. "We looked at a number of options. But along with the GSX-R, the Bandit series is an iconic series for Suzuki, so this is why we chose it. In this project, Muth was an extremely good tutor for me. At the beginning of our cooperation, we shut ourselves away for three days to only talk and outline the FatMile project. That was enormously motivating and instructive for me," adds Händler.
"Händler is full of good thoughts and ideas. Sometimes I had to remind him to consider the limits of real implementation at early draft stages, but we worked in good harmony. I think that together we have created a very good machine," says Muth. While the Suzuki FatMile uses the stock Bandit's 1255cc inline-four, it gets a custom exhaust from Cobra, modified rear subframe with custom-built leather seat, Paaschburg & Wunderlich headlamp, GFK front fender and, of course, a special one-off paintjob. The brake discs and calipers, as well as the front fork, are from a GSX-R1000, and PVM wheels, Motogadget tacho, and Rizoma rearsets, handlebars and rear-view mirrors complete the package. Overall, a fantastic looking bike!